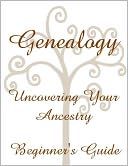 Search For Genealogy Records In Our Archives!
So, you are interested in researching your family history but do not know where to begin?

Well, summed up briefly.............

Start with yourself and work backwards, collecting the names of your relatives, including those that are deceased and establish their relationship to each other. Using records and documentation's to verify facts of; birth, death, marriages, land, military, naturalization, etc.

Use the links on the left for more in-depth researching information to help you in your journey of discovering your family history.

Genealogy Uncovering Your Ancestry - Beginner's Guide

Tracing Your Family Roots with Genealogy: Uncovering Your Ancestry-Beginner's Guide E-Book

If you're interested in tracing your roots but have no idea where to start, all the answers you need are in Genealogy: Uncovering Your Ancestry-Beginner's Guide.
More
GENEALOGY RESEARCH NOTEBOOK / ORGANIZER

Organize your research project! The notebook is subdivided in to four sections for surnames or to separate the different family lines you are researching.

Genealogy:

1. The study of family history

2. The history of a particular family showing how the different members of the family are related to each other.

Merriam – Webster Dictionary